2017 — Our 25th Season is Here!
We want to thank all our supporters and attendees for helping us have a successful 24th season. Our current season will start in June of 2017. This season will feature a brass ensemble piece written by a local compose, Sean Beachey, to commemorate out 25th anniversary. If you subscribe to our email alerter (over on the right side), we will let you know what the season's concerts will be and when (or view them over on the right!). We look forward to seeing you at our current concerts and again next year! We have added information for donating directly from an IRA that offers many benefits to the donor to our web pages. If you are 701/2 or older and have an IRA, you can use your minimum distribution as a contribution as both a tax-free and base-valued contribution!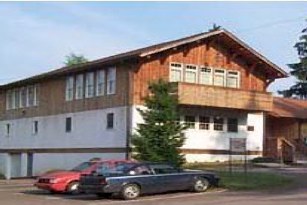 Music at Penn Alps is a summer mostly classical series of Saturday evening concerts with a dash of traditional several nights in the series. Most of these informal concerts are held in the Great Hall of Penn Alps (pictured), which is part of the Penn Alps Restaurant and Crafts Shop complex. The complex includes the Spruce Forest Artisan Village. In addition, we have some concerts in the Spruce Village Chapel each year — it is handicapped-accessible.
The first concert held in the Great Hall of Penn Alps was in January of 1993. The Boston Pro Arte Chamber Group performed in a ceremony dedicating the Hall to Dr Alta Schrock, founder of Penn Alps and The Spruce Forest Artisan Village.
The concert was so well received and the acoustics of the Great Hall were so good that Dr. Schrock and Dr. Jon Bauman, Professor of Music at Frostburg State University, decided to organize a concert series to complement other activities at the Penn Alps complex. And so the Music at Penn Alps festival was born. Jon Bauman became Music Director and remained so until March of 1996, when he resigned and Fred C. Bolton became Program Director.
The festival was originally managed by a "Music at Penn Alps Committee." The Committee benefited from the nurturing support of both Penn Alps and Spruce Forest. Penn Alps provided a name, a venue and financial support. Spruce Forest provided an office and administrative support. In 1997 the original Committee was transformed into the present non-profit corporation and a Board of Directors replaced the Committee. Incremental changes have professionalized the administration of the organization.
These administrative changes have not significantly altered the concert series. The programs remain primarily classical, with the focus on chamber ensembles and recitals. Each year at least two programs explore different genre of distinctly American popular and folk music. Artists are drawn from a worldwide pool of musicians and the festival continues to present local and regional performers.