Dr. Alta E. Schrock
Founder, Music at Penn Alps
1911-2001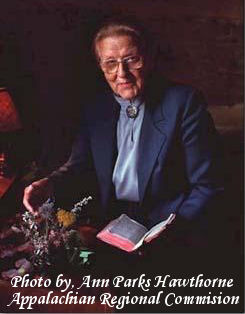 Born into a conservative Amish family, Dr. Schrock pursued learning all her life. Walking five miles to and from school every day as a child, she memorized the Bible, poems, biology and botany. Her father built a study cabin for her that is now in Spruce Forest. She was the first Mennonite woman to earn a Ph D (University of Pittsburgh, Biology, 1944).
Always teaching and counseling, she spent 30 years in the classrooms of Waynesburg College, Bluffton College, University of Pittsburgh, American University and Goshen College. She was Professor of Biology at Frostburg State University from 1960 to 1977. She wrote numerous articles in journals and magazines.
Dr. Schrock had an insatiable appetite for facts about the origins and evolution of her people. This led to founding Springs Historical Society, Museum of Early Settlers and Folk Festival, as well as Spruce Forest.
She was deeply religious and focused on service to the less fortunate, founding 17 different philanthropic organizations. An entrepreneur of boundless vision, she generated projects to raise the standard of living for the less fortunate. Her most apparent achievement was the founding of Penn Alps Crafts Shop and Spruce Forest Artisan Village, providing an outlet for local artisans. An adventurous humanitarian of international scope, she did relief work in Germany after W.W.II.
Selected Honors: Doctorate, Waynesburg College; Doctorate, Frostburg State University; Maryland Women's Hall of Fame.