Saturday, April 21, 3pm Recital for Naylor Scholarship Students Scholarship recipients will be featured in an awards recital. They will also perform in the Piano Auditions and Honors Recitals at Frostburg State University on April 14 and 15.
Sponsored by The Naylor Foundation
Saturday, May 26, 7:30pm American String Quartet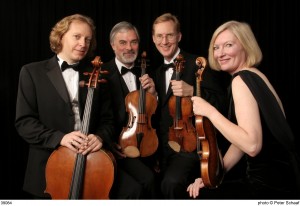 Peter Winograd, violin
Laurie Carney, violin
Daniel Avshalomov, viola
Wolfram Koessel, celloInternationally recognized as one of the world's foremost quartets, the American String Quartet celebrates its 36th season in 2011–2012. Critics and colleagues hold the Quartet in high esteem and many of today's leading artists and composers seek out the Quartet for collaborations.Saturday, June 9, 7:30pm Armonia Celeste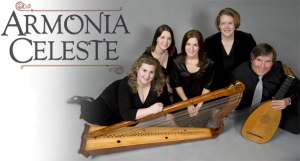 The ensemble Armonia Celeste (Italian for heavenly harmony) brings the music of the Italian Renaissance and Baroque eras vividly to life for audiences across America. With three distinct and beautiful female voices singing in close harmony accompanied by plucked-string period instruments, the musicians of Armonia Celeste infuse their historically informed performances with unforgettable passion and joy.Saturday, June 23, 7:30pm Terra Voce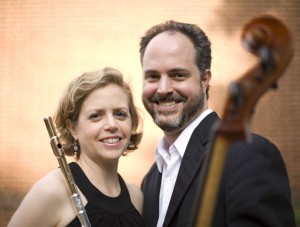 Terra Voce is a ground-breaking flute and cello duo known for lively and creative programs combining the diverse and the unexpected. Cellist Andrew Gabbert and flutist Elizabeth Brightbill thrill audiences with their virtuosity, engaging, conversational style of presentation, and their genre-expanding programs that explore a wide range of musical styles, traditions, and cross-cultural influence.
Saturday, June 30, 7:30pm D'Amore Duo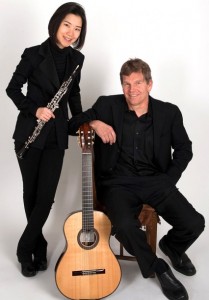 Founded in 1991 to investigate the little known wealth of chamber music for oboe and guitar, the D'Amore Duo has toured internationally and domestically to enthusiastic reviews. Yeon Jee Sohn plays oboe and William Feasley plays guitar. You can preview some of their repertoire here.Saturday, July 7, 7:30pm Madeline Adkins/Edward Newman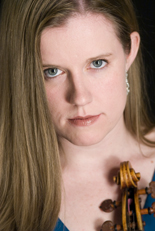 Madeline Adkins was appointed to the position of Associate Concertmaster of the Baltimore Symphony Orchestra by Maestro Yuri Temirkanov in 2005. She joined the orchestra in 2000 as Assistant Concertmaster. She has appeared frequently as soloist with the BSO, performing works by Beethoven, Vaughan Williams, Bach, Mendelssohn, Mozart and Prokofiev. Most recently she was featured as the soloist and leader for a conductor-less program of Vivaldi, Handel, Bach and Carlo Farina. Ms. Adkins also performs as Concertmaster of the Baltimore Chamber Orchestra.Edward Newman received both the B.M. and M.M. degrees from the Juilliard School, and has been soloist with numerous orchestras, among them the Cleveland Orchestra, the National Symphony, and the Baltimore Symphony. He was awarded first prize in the 1979 Casadesus International Piano Competition. He was also a prizewinner in the Gina Bachauer and University of Maryland competitions, and was a semifinalist in the 1981 Van Cliburn Competition. A pianist of virtuosity and sensitivity, Edward combines the qualities of "brilliant technique" (Washington Star) and "a light touch of dazzling clarity" (Cleveland Plain Dealer) with "expressive lyricism" (Washington Post).Saturday, July 21, 7:30pm Fred Sturm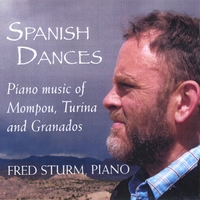 Sturm received a master of music degree in piano performance from UNM in 1979. He is active as a performing pianist, and specializes in the solo piano repertoire of Latin America, with a particular emphasis on the music of Villa-Lobos. He has recorded five CD's of solo piano music, including Brazilian Soul (music of Villa-Lobos); American Rags, Brazilian Tangos, and Afrocuban Dances (music of Joplin, Scott, Lamb, Nazareth and Lecuona); Piano Music of Ginastera and Villa-Lobos; Spanish Dances (piano music of Mompou, Turina and Granados); and Sonidos de Nueva España (piano music by Mexican composers).
Saturday, July 28, 7:30pm The Georgetown Quintet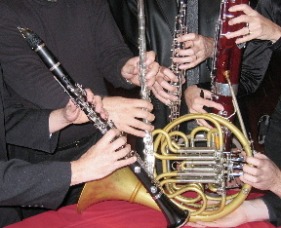 The Georgetown Quintet dares to go where other quintets never go. This group commissions new works and plays them alongside classic works before varied audiences — including some that have never experienced live chamber music.Nominated for a Washington Area Music Award as Best Chamber Ensemble of 2009, The Georgetown Quintet has entertained audiences at Strathmore Mansion, The John F. Kennedy Center for the Arts, the Benning Neighborhood Library in Washington, DC and Black Rock Center in Germantown, MD.Saturday, August 4, 7:30pm The Brass Roots Trio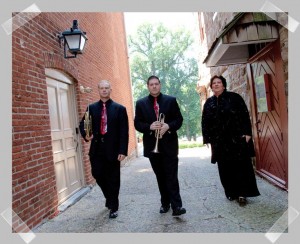 Now in its 9th season of concerts, BRASS ROOTS TRIO has performed in every corner of the US and UK. In 2009 the trio was honored to perform at the White House.Exhilarating performances and imaginative programming have established
Brass Roots Trio as one of the most compelling ensembles of the 21st century.
Saturday, August 18, 7:30pm Cobham Consort (Runaway String Band)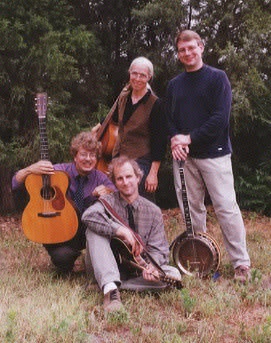 Brian Forsman has been a mainstay of the colonial music scene in Williamsburg for nearly 20 years. He has played in a wide range of musical settings and styles, and most recently was the featured fiddler in A Wolf by the Ear, Colonial Williamsburg's theatrical presentation on the Missouri Compromise. Brian has a background in traditional Irish and American fiddle playing as well as in fiddle styles of the 18th century.Barry Trott toured for 10 years with his noted early music trio The Virginia Company, playing the popular music of the 17th and 18th century throughout the eastern US, including concerts at Wolf Trap Center for the Performing Arts and the Kennedy Center. He is also a longtime performer of 17th and 18th century music in historic Williamsburg. With the Cobham Consort, Barry plays early mandolin, flute, and English guitar, and sings.Lynn Trott sings harmony and lead with "…one of those clear, womanly voices that cross the centuries." She has been a member of several traditional and early music groups including the James River Consort and Southern Horizon and has played 17th and 18th century music in Colonial Williamsburg for over 25 years. In the Cobham Consort, Lynn plays viola da gamba and recorder and sings.Lee Welch has performed as a balladeer in Colonial Williamsburg since 1998 and is an active period musician and freelance percussionist. His classical guitar studies at Shenandoah Conservatory led to a love of early music and a desire to perform on historically appropriate instruments. Mr. Welch holds graduate degrees in both music and education. With the Cobham Consort, Lee plays Baroque and English guitars, pipe and tabor, and percussion, and singsSaturday, August 25, 7:30pm Dixon/Fiedlerová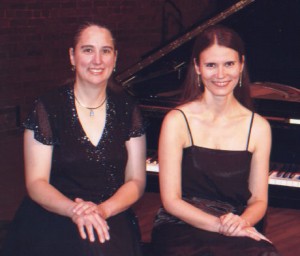 Ms. Fiedlerová and Dr. Dixon are featured artists for the International Dvorak Society's American Spring Festival, Prague, Czech Republic, and the Festival of Mutual Inspirations: Antonín Dvořák, hosted by the Embassy of the Czech Republic, Washington, DC. Together they have performed throughout the Czech Republic and United States, specializing in Czech repertoire for piano, four-hands and piano/organ duets.Alice Fiedlerová is on the faculty of New York University in Prague. She has made a number of recordings for Czech Radio and Czech Television and has performed in Germany, France, Switzerland, Belgium and USA. In 2000, Alice Fiedlerová was invited to collaborate on the "In Memory of the Czech Terezín Composers Project" as the featured performer for the opening concert of the project. She also participated as the coach for the Master Classes, which were part of project. In 2001, Alice Fiedlerová performed with mezzo-soprano Olga Černá, whom she accompanied at the Brücken für die Zukunft Festival at Schwerin (Germany), where music by Terezín composers was performed. In cooperation with the Hans Krása Foundation, Fiedlerová performed in several concerts, in which compositions by P. Haas, H. Krása and V. Ullman were featured. Her activities include collaboration with other outstanding soloists including principal flutist of the Israeli Philharmonic Orchestra, Yossi Arnheim, and leader of the National Philharmonic of Ukraine, Vadym Borysov.Dr. Joan DeVee Dixon is Professor of Music and Faculty Advancement Associate at Frostburg State University in Frostburg, Maryland. She made her professional debut with the Minnesota Orchestra at the invitation of Sir Neville Marriner. Since that time, she has conducted extensive concert tours of the USA, England, France, Germany, Switzerland, Austria, Italy, Israel, Palestine, Japan and the Czech Republic. Dr. Dixon's Czech Heritage Mass was commissioned by the Czech Heritage Partnership for the 150th Anniversary celebration of St. Wenceslaus Church, Spillville, Iowa (2010) and has been performed in Iowa, Wisconsin, Maryland and New Hampshire. She has released twelve CDs, featuring both piano and organ and is frequently heard on National Public Radio and programs such as Pipedreams. She is a frequent guest organist at St. Michael's Lutheran Church in Bloomington, Minnesota, and St. Wenceslaus Catholic Church in Spillville, Iowa. For more information: http://www.joandeveedixon.com.