June 11, 2016 7:30 pm
Great Hall at Penn Alps
Trio Rodin — Clarinet, Viola, and Piano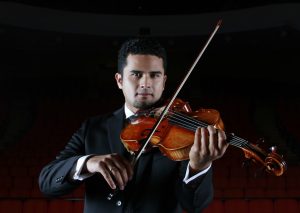 David Pedreza joins us with his viola and two friends: Stojo Miserlioski, Clarinet and Annya Nizhegorodtseva, Piano.David was born in Reynosa, Mexico, and started his musical studies at 14 in the OCJM under Jose Vazquez. Later on he received a full scholarship to study the Bachelor of Music at Shenandoah Conservatory.
From 2003 to 2005 he was part of the Youth Orchestra of the Americas under Placido Domingo, Carlos Prieto and Gustavo Dudamel.
He won the First Prize with Vitali String Quartet at the 2004 MTNA Virginia chamber music competition and also has received honorific mentions in 2005 and 2007 from the MTNA Viola competition in Florida. Recently he performed the Bartok Viola Concerto with the Orquesta Sinfonica de la UAT. David has performed worldwide. Currently he is part of the Vitali Quartet, Symphony of the Americas and Miami Symphony. And he is on the faculty at the Prep Department of Palm Beach Atlantic University.
Program:
8 pieces for Clarinet, Viola and Piano, Op. 83 by Max Bruch (1838-1920)
Andante
Allegro con Moto
Andante con moto
Allegro agitato
Rumanian Melody
Nocturne
Allegro vivace, ma non troppo
Moderato
Märchenerzählungen, op. 132 by Robert Schumann (1810-1856)
Lebhaft, nicht zu schnell
Lebhaft und sehr markirt
Ruhiges Tempo, mit zartem Ausdruck
Lebhaft, sehr markirt
Trio in E flat major, K. 498 by Wolfgang Amadeus Mozart (1756-1791)
Andante
Menuetto
Rondo
June 18, 2016 7:30 pm
Great Hall at Penn Alps
Beachy Duo — Piano 4 HandsSean Beachy is a native of Garrett County. After graduating from Northern Garrett High School, he attended Alderson Broaddus University in Philippi, WV, where he earned a Bachelor of Arts degree in Applied Piano. He also completed a Master of Music degree from Shenandoah Conservatory and a Doctor of Musical Arts degree from West Virginia University, both in composition. Dr. Beachy has had pieces premiered and performed throughout the United States. Most recently, his SATB setting of the Sanctus, completed in February 2015, was premiered by members of the Frostburg State University Chamber Choir at the Basilica Papale di San Francesco in Assisi, Italy.Dr. Beachy is currently Adjunct Instructor of Music at Garrett College. In addition to teaching music classes, he teaches private piano and composition lessons through Garrett's Department of Continuing Education and is Director of the Mountain Maryland Music Institute. Dr. Beachy has been a regional accompanist for ten years, performing for local high school choirs and festivals, and continues to collaborate with students and instructors at WVU and Frostburg State University. He has also served as music director for FSU's Roundabout Theatre for the past five years. Additionally, he is the organist at Frostburg United Methodist Church and is the assistant administrator of the Music at Penn Alps Scholarship Program.Debi Beachy, a West Virginia native, also attended Alderson Broaddus University where she earned a Bachelor of Arts degree in Music Education with an emphasis in Piano. In 2006, she earned a Masters of Music degree in Music Education with an emphasis in Choral Conducting from West Virginia University. Mrs. Beachy has led middle and high school choral ensembles in Kentucky, West Virginia, Illinois and Maryland. For the past 10 years, she has served as a music teacher here, in Garrett County. She has been choral director at both Northern and Southern Garrett High Schools and was instrumental in developing and implementing a new piano course. Mrs. Beachy currently teaches elementary music at Accident and Friendsville Elementary Schools. She also is the choral director at Frostburg United Methodist Church, where she and Sean have served for the past 13 years.

As a couple, the Beachy's have been performing four-hand piano works for almost 20 years, beginning while attending college. Throughout the past 12 years, they have presented multiple concerts at Frostburg United Methodist Church. The couple have also worked as a director/accompanist collaborative team for the past 17 years in both school and church settings. In addition, they have been involved in multiple musical productions, including Nunsense, Annie Get Your Gun, The Wizard of Oz, and most recently, The Little Mermaid. They currently reside in Grantsville with their children, Evan and Ella.

Program

Sonata in C major, KV. 521 Wolfgang Amadeus Mozart

Hungarian Dances Nos. 12, 16, & 19 Johannes Brahms

Six Morceau, Op 11 Sergei Rachmaninoff
II. Scherzo

Overture to Barber of Saville Gioachino Rossini

Legends Op. 56, No. 6 in C-sharp minor Antonín Dvořák

Peer Gynt Suite No. 1, Op. 46 Edvard Grieg

I Got Rhythm (Impromptu Variations) George and Ira Gershwin
Trans. By Gregory Stone

July 2, 2016 7:30 pm
Church
Two Faces of the Baroque — Mountainside Baroque

Two Faces of the Baroque
Mountainside Baroque
Ryan Mullaney and Lyle Nordstrom, directors

Brandi Barry—Baroque violin
Marc Bellassai—harpsichord
Sarah Lynn—Baroque flute and recorder
Ryan Mullaney—baritone
Lyle Nordstrom—lutes
Arnie Tanimoto—viola da gamba

Popular Music from 17th Century England

Some year of Late in '88 Anonymous
Woods so wild William Byrd (c. 1543-1623)
Greensleeves to a ground Anonymous (The Division Flute. 1706)
The Soldier's Resolution Tobias Hume (c. 1579-1645)
Bonny Sweet Robin Anonymous (Dowland MSS. Folger Library)
Watkins Ale
Tobacco Tobias Hume
John come kiss me now Anonymous (The Division Violin. 1685)
Love will find the way Anonymous

Intermission

The French Baroque

Quartet for flute, violin, viola da gamba & continuo No. 6 in E minor (TWV 43:e4) Georg Phillip Telemann (1681-1767)
Prélude. À discrétion – très vite
Gai
Vite
Gracieusement
Distrait
Moderé
Tambourin Jean-Marie Leclair (1697-1764)

July 9, 2016 7:30 pm
Great Hall at Penn Alps
Michael Adcock — PianoMichael Adcock has cultivated a versatile career as soloist, chamber musician and pre-concert lecturer. Recipient of the 1998 Lili Boulanger Memorial Award, Mr. Adcock was also a prizewinner in the 1996 Washington International Competition as well as the Kosciusko Foundation Chopin Competitions in Chicago and New York. Performing throughout the United States, Mr. Adcock's has also pursued his career in France, Italy and Australia. He gave his Carnegie Recital Hall debut in December of 1998.A native of Virginia, Michael Adcock attended secondary school at the North Carolina School of the Arts, where he received the Irwin Freundlich Memorial Piano Award. Mr. Adcock took his Bachelor's degree from the Oberlin College-Conservatory where he graduated Pi Kappa Lambda. At Oberlin, he was twice awarded the Kaufmann Prize in chamber music and received the Hurlbutt Award as most outstanding graduating senior in the conservatory. Mr. Adcock earned the Master's, Artist Diploma and Doctoral degrees from the Peabody Conservatory in Baltimore, where he studied with Leon Fleisher and Ellen Mack. At Peabody, Mr. Adcock was a prizewinner in the Yale Gordon and Harrison Winter Concerto Competitions, in addition to being an adjunct member of the theory and chamber music faculties.A former Artist-in-Residence at the Aspen Institute (MD), Michael Adcock now makes his home in Silver Spring, MD where he is a faculty member of the Washington Conservatory in Bethesda, MD. Mr. Adcock has been associated with many local chamber series and summer festivals and was for 17 years a faculty member of the Musicorda Festival. Currently associate piano faculty at the Sarasota Music Festival, Mr. Adcock is also artistic director of the Chalice Concert Series in Columbia, MD. Notable musicians with whom Mr. Adcock has collaborated include Denyce Graves, Ani Kavafian, Gervase dePeyer, Phillip Muller, David Jolley, James Buswell and the St. Petersburg String Quartet.

Program:

Les Barricades Mystérieuses François Couperin
Impromptu in B‐flat Major, D. 935 Franz Schubert
Preludes, Op. 32 Sergei Rachmaninoff
Prelude in g‐sharp minor, no. 12
Prelude in b‐minor, no. 10
Prelude in G major, no. 5
Prelude in A major, no. 9
Soirée de Vienne, Op. 56 Johann Strauss‐Alfred Grünfeld
Sheep May Safely Graze J.S. Bach‐Egon Petri
4 Pieces from Romeo and Juliet, Op. 75 Sergei Prokofiev
Arrival of the Guests
The Young Juliet
Montagues and Capulets
Friar Laurence
3 Etudes George Gershwin‐Earl Wild
Liza
Embraceable You
I Got Rhythm
Turkish March W.A. Mozart‐Arcadi Volodos

July 16, 2016 7:30 pm
Church
Flavio Sala — Solo GuitarItalian guitarist Flavio Sala has appeared with the Jury Bashmet New Russia Orchestra, Turin Philharmonic Orchestra, Orquesta Sinfonica de Venezuela, Tchaikovsky Concert Hall in Moscow, Hermitage Theatre in Saint Petersburg, Teatro Coliseo in Buenos Aires, Grand Teatro das Artes in Belo Horizonte, Teatro Politeama in Palerm and in more than 400 concerts, recitals and house concerts throughout the world. He has collaborated with Mango, Steve Howe (Yes, Asia), Marcus Miller, Alain Perez, Rafael "Pollo" Brito, Fabrizio Bosso, Toninho Horta, Giovanni Baglioni, Hiba Al Kawas and many others.Program

Agustin Barrios Mangoré: Julia Florida
Johann Sebastian Bach: Prelude from Suite for Cello nr 1 in D (Transcr. by Flavio Sala)
Rey Alfonso X "El Sabio": Cantigas de Santa Maria
Agustin Barrios Mangoré: Sueno en la floresta
Frederyk Chopin: Nocturno
Nikita Koshkin: Usher Waltz opus 29, after Edgar Allan Poe.

Carlo Domeniconi: Koyunbaba opus 19
Alfonso Montes: Preludio de adios
Ignacio "Indio" Figueredo: Los Caujaritos (Arranged by Alirio Diaz)
Riz Ortolani: Fratello Sole, Sorella Luna (Arranged by Flavio Sala.)
Queen: Love of my life (Arranged by Flavio Sala)
Maurizio Colonna: Kennedy Airport
Eric Clapton: Tears in heaven
Carlos Santana: Europa

July 23, 2016 7:30 pm
Great Hall at Penn Alps
Jon Carney, Violin and John Nauman, PianoJon Carney Returns with John Nauman accompanying on piano.Jon is in his 14th season as concert master with the Baltimore Symphony Orchestra, after 12 seasons in the same position with London's Royal Philharmonic Orchestra.Born in New Jersey, Mr. Carney hails from a musical family with all six members having graduated from The Juilliard School. After completing his studies with Ivan Galamian and Christine Dethier, he was awarded a Leverhulme Fellowship to continue his studies in London at the Royal College of Music.

After enjoying critically acclaimed international tours as both concertmaster and soloist with numerous ensembles, Jon was invited by Vladimir Ashkenazy to become concertmaster of the Royal Philharmonic Orchestra in 1991. He was also appointed concertmaster of the Bournemouth Symphony Orchestra in 1994 and the Basque National Orchestra in 1996.

Recent solo performances have included concertos by Bruch, Korngold, Khatchaturian, Sibelius, Nielsen, the Brahms Double Concerto and Vaughan Williams' The Lark Ascending, which was featured as a live BBC broadcast from London's Barbican Hall. He has made a number of recordings, including concertos by Mozart, Vivaldi and Nielsen, sonatas by Brahms, Beethoven and Franck, and a disc of virtuoso works of by Sarasate and Kreisler with his mother Gloria Carney as pianist. New releases include Beethoven's Archduke and Ghost trios, the cello quintet of Schubert and a Dvorak disc with the Terzetto and four Romantic pieces for violin.

Mr. Carney is passionate about music education and currently serves as Artistic Director for the Maryland Classic Youth Orchestras. He is also an artist in residence at the Baltimore School for the Arts, one of the country's premier high schools and also serves on its Board of Directors.

Mr. Carney performs on a 1687 Stradivarius, the Mercur-Avery, on which he uses "Vision" strings by Thomastik-Infeld. Mr.Carney's string sponsor is Connolly & Co., exclusive U.S. importer of Thomastik-Infeld strings.

Program:

Sonata in G major  Op. 78.         J. Brahms
Vivace ma non troppo
Adagio
Allegro molto moderato

Chaconne for solo Violin              J.S. Bach

Sonata in A major                          Cesar Franck
Allegretto Ben moderato
Allegro
Ben moderato. Recitative-Fantasia
Allegretto poco moderato

July 30, 2016 7:30 pm
Great Hall at Penn Alps
Antony Zwerdling — Baritone and accompanistAntony Zwerdling performs opera, oratorio, and recital repertoire across the United States. He has appeared in over twenty-five roles, including Papageno in Zauberflöte, Figaro in Il Barbiere di Sivilia, Eisenstein and Falke in Die Fledermaus, Sid in Albert Herring, Pooh Bah in The Mikado, Mama Agata in Le Convenienze Teatrali, and Marcello in La Bohème. He has also sung as a soloist in Händel's Messiah, Bach's St Matthew Passion, and the requiems of Mozart and Fauré. He has presented ten different recital programs, choosing repertoire that spans a wide range of stylist periods and genres.Zwerdling performs with numerous opera companies, choruses, and orchestras, including Washington National Opera, Wolf Trap Opera, Boston Lyric Opera, Lake George Opera, Washington Concert Opera, Opera Boston, Ash Lawn Opera, Handel & Haydn Society, Washington Bach Consort, Baltimore Choral Arts Society, Washington Master Chorale, and Philharmonia Baroque.He received his bachelor's degree from Northwestern University and master's from Boston University. In 2007, he earned his doctorate from Shenandoah Conservatory, writing about songs of Samuel Barber.
August 6, 2016 7:30 pm
Great Hall at Penn Alps
Merling TrioThe Merling Trio consists of Renata Artman Knific — violin, Bruce Uchimura — cello, and Susan Wiersma Uchimura — piano. The trio is recognized as one of today's premier ensembles. A truly international trio, it brings together musicians from Polish, Japanese, and Dutch backgrounds. The Merling Trio has been hailed as a brilliantly distinguished group endowed with remarkable gifts of communication, magnificent precision, and an impeccable blend of sound. The trio made its New York debut in Weill Recital Hall at Carnegie Hall in 1993, and was named a finalist for the Naumburg Foundation Chamber Music Award in 1994.The Merling Trio has given numerous recitals throughout the United States, Canada, and Europe. Members of the Trio have performed with orchestras such as the English Chamber Orchestra, the Honolulu Symphony, the BBC Scottish Symphony Orchestra, the Concerto Soloists of Philadelphia, and the South Carolina Philharmonic, under the baton of such notable conductors as Daniel Barenboim, Simon Rattle, and Christoph Eschenbach. Recent trio performances include concerts for the Lagerstrom Concerts Series at Caltech, the Texas Friends of Chamber Music Series, the Jewel Box Series in Chicago, the Charleston Chamber Music Society, Merkin Hall, and the Antioch College Professional Piano Series. Performances by the Merling Trio have been broadcast widely on television and radio, including WNYC, WFMT 98.7 in Chicago, Interlochen Public Radio, and Peachstate Public Radio. The 2013-14 season will include tours to Arkansas, Missouri, New Jersey, Illinois, New York, Iowa, California, and Nevada.Several contemporary composers have written works for the Merling Trio, and in 1993, they commissioned and premiered C. Curtis-Smith's Second Piano Trio. In February 1998, the trio returned to Carnegie Hall for a sold-out performance of a new work by Terry Winter-Owens, commissioned by the Merling Trio with a Commissioning Grant from the American Composers Forum. In 2003, the trio premiered Frank Proto'sQuartet for Piano and Strings with bassist Tom Knificat St. John's Smith Square in London, England. The trio performed the complete piano trios of C. Curtis-Smith for a gala concert at the Gilmore International Keyboard Festival in 2010.  The 2013 season saw a premiere of the trio's newest commission, Piano Trio No. 2, from San Francisco composer Peter Scott Lewis.

The Merling Trio takes its name from the Danish violin maker, Paul Merling.  Currently, Mr. Uchimura performs on an Enrico Marchetti cello, made in Turin, Italy, in 1899.  Ms. Knific's violin, fashioned by Vincenzo Postiglione in Naples, Italy, dates from 1898.

Program:

Hungarian Dance No. 15 and 17 Brahms/Hermann
Piano Trio in E Major, K542 Mozart
Allegro
Andante grazioso
Allegro
Hungarian Dance No. 9 and 5 Brahms/Hermann
Notturno in E-flat Major, D 897 Schubert
The Days of Wine and Roses Mancini/Knific
Moon River Mancini/Knific
Hungarian Dance No. 6 Brahms/Hermann

August 13, 2016 7:30 pm
Great Hall at Penn Alps
Ismar Gomes and Wan-Chi Su — Cello & PianoCellist Ismar Gomes performs throughout the US and Europe as soloist, recitalist and chamber musician and has been hailed for his "impressive virtuosity, energy, and a handsome tonal range." As a recording artist, Mr. Gomes made the premiere recording of a chamber opera by Pulitzer Prize winning composer, David Lang, in collaboration with the Harlem Quartet last year.Taiwanese pianist Wan-Chi Su has enjoyed an active career as a solo and chamber musician, having performed to prize-winning acclaim at many venues in Asia, Europe and the United States. Besides her regular activities as a solo performance major, Wan-Chi is a dynamic and sought-after performer on the East Coast, as a chamber musician and vocal accompanist.Wan-Chi and Ismar perform compositions that span the gamut of available repertoire, and the each of the Duo's imaginative programs is driven by a creative, thematic idea. By coupling vivid performances with informative commentary from the stage, they create memorable and meaningful experiences for their audiences. The Duo is traveling throughout the US in 2015, performing debuts on several series, making several return engagements and premiering a work they commissioned from New York based composer, William Weigel. They have been invited to give concerts and present masterclasses throughout the US over the coming seasons, and are excited to record their Debut Album in the winter of 2015.
August 20, 2016 7:30 pm
Great Hall at Penn Alps
Io Flute Duo — Keith Hanlon and Amara Guitry, Sean Beachy — PianoThe io ensemble highlights the flute through the performance of a wide variety of repertoire using historical and modern instruments.Io was founded by Amara Guitry and Keith Hanlon in 2015 to showcase less commonly performed repertoire for flute that includes solo, duo, and mixed ensemble pieces. The duo further pushes the initiative by including period instruments, widening the tonal palette of their performances. Their roster of instruments include copies of 18th century flutes, original instruments from the turn of the 20th century, modern instruments, and other members of the flute family.The ensemble varies its program depending on the concert space and the availability of local collaborative musicians. Each concert is unique, either through repertoire, personnel, or instrumentation and provides each audience with a colorful and personal experience.

Sonata in h-Moll, TWV 40:141 by Georg Philipp Telemann
Vivace
Largo
Presto

Elysian Fields by Robert Maggio
Part One:  . . . the lyre gave forth some mournful notes . . .
Part Two:  . . . The poet's shade fled beneath the earth . . .
Part Three:  . . . and, seeking through the blessed fields, found Eurydice

Scenes from the Japanese Countryside, Land of Remote Valleys by David Loeb

After Hokusai, opus 89 by Carey Blyton
Cormorant in the Snow
Carp in a Waterfall
Azaleas and Cuckoo
Peonies and Butterfly
Frog on an old Tile

Trio for Piano and 2 Flutes, opus 119 by Fredrich Kuhlau
Allegro moderato
Sostenuto assai
Allegro

Maya by Ian Clarke

Duettino hongrois, Op.36 for 2 Flutes and Piano, opus 36 by Doppler
Allegro moderato
Andante moderato
Allegro